How Auro Liquid Gold Works
to make safe & healthy drinking water
4-Step Process of Water Treatment
Auro Liquid Gold Water Purification and Filtration solutions work using a 4-step proven water treatment process. Our process eliminates the final process of adding toxic disinfectants commonly associated with municipal and bottled water treatment.
"In 2016, we moved to Maui Hawaii and were grateful we had Auro Liquid Gold. Water is the essential part of living and with confidence we used our Auro Liquid Gold every day! Maui's water supply was not good tasting at all, and with the water filter and drops…No problem – Tastes great and we know it to be healthy too."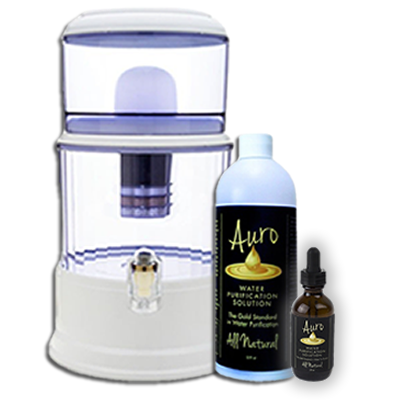 Filtration is the logical final step in the process. Auro Liquid Golds' 4-step process ensures that contaminants do not simply pass through your water filter.
Auro Liquid Gold, when combined with a water filtration system such as our Auro Water Filter will give the best results. 
When not using a water filtration system or another type of filter it can take up to 48 hours for precipitates to settle at the bottom of your water container. Auro's gravity-fed double filtration system filters the water immediately. Once the water reaches the bottom reservoir of the filter it is ready for consumption.
Restore Your Water Get Started Here