Description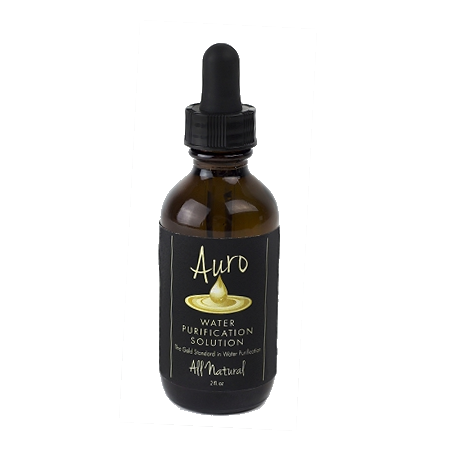 Auro Liquid Gold allows you to create high-quality, ultra-pure drinking water so you don't have to worry about where your water comes from or what could be lurking in it.
Conveniently take this Auro Liquid Gold Trial size water purification with you wherever you go; restaurant, camping, weekend trip or stick one in your survival kit just in case. This 2oz bottle of Auro Liquid Gold will treat up to 15 gallons (60L) of water.
What Auro Liquid Gold Trial does:
Auro Liquid Gold unique formula neutralizes well over 250 contaminants allowing them to be filtered out of your water, without the use of chemicals or other synthetic substances. Auro Liquid gold also adds 70+ ionic minerals to your water making it more hydrating while at the same time activating the oxygen in water.
Features of Auto Liquid Gold Trial:

Neutralizes over 250 contaminants including pharmaceuticals, OTC drugs, agricultural chemicals, heavy metals, industrial chemicals, disinfectants, disinfection byproducts, and microorganisms to a concentration less than or equal to NSF/EPA permissible standards.
Improves taste by neutralizing up to 100% of contaminants that affect taste like chlorine; contains trace quantities of natural electrolytes (ionic trace minerals) like calcium, phosphorus, potassium, and magnesium which help enhance flavor.
Aids filtration by neutralizing contaminants that would ordinarily pass through most water filters.
Eco-friendly alternatives to chlorine and other chemical-based water treatments; will never create harmful byproducts.
Easy to use. Simply add the recommended amount of solution to your water prior to filtration. No Electricity Needed!
5+ year shelf life. Great for water storage.
U.S. manufactured to comply with GMP standards.
Tested according to NSF and EPA standards (when applicable).
Everyday Uses for Your Auro Liquid Gold Trial:
Drinking water for your family and pets
Making beverages – coffee, tea, juice, etc.
Washing/Cleaning fruits, vegetables, etc. (Removes/Reduces harmful bacteria, molds, pathogens, heavy metals, pesticides, herbicides from soaking your produce in the Auro treated water for up to 10 minutes.
Cooking – pasta, soup, etc. (Heat does not affect the efficacy of the Auro minerals/OK To Boil!)
Watering Plants – indoor and outdoor (foliage spray and soil application)
Bathing – Use the Auro Liquid Gold to purify your bath water while creating a natural healing hot spring in your own home
Spas/Hot Tubs – Create your own healing hot spring and keep your spa/hot tub crystal clear, free from any pathogens and toxins, no foul odor or rotting of the water inside for up to 9 months with just one treatment/application of our Mineral Spa product at Mineral Spa Hot Tub – Chemical Free – Complete Start-Up Kit – Clarity for Spas: Natural Hot Tub Water Treatment | Chlorine Free [Official]
Fish Aquariums/Aqua Culture – Creates the healthiest water possible for your aquatic creature in which they will love and thrive in, significantly reduces the frequency for changing out the water in their tank (creates crystal clear water within a few hours (significantly reduces the turbidity or cloudiness in water, nitrates, ammonia, anaerobic bacteria and pathogens, increases size and lifespan of aquatic life.
Outdoors/Survival Mode – When using water from a natural freshwater source use 2 to 3 times the normal drinking water dosage rate
Water Storage – Creates Activated Oxygen (Dissolved Oxygen) and raises Oxidation Reduction Potential (ORP). Basically, allows oxygen levels to remain in the water for up to years and/or longer when stored properly (sealed container, dark, room temperature environment)
This size bottle makes the perfect trial purchase of Auro Liquid Gold trial. Once you are satisfied you can purchase a refill bottle and reuse the travel size dropper bottle for all of your travels.
* These statements have not been evaluated by the FDA and are not intended to cure, diagnose, treat, or prevent any disease